If you've ever been into A&E with a minor injury, you'll have no doubt experienced the unsurmountable emotional unrest of having to linger around with literally nothing to do besides avoiding eye contact with everyone else there, twiddling your thumbs, or occasionally plucking up the courage to re-ask the person behind desk that dreaded question: "How much longer"?
Well, this is all seemingly too much for some people, who instead choose to flip their metaphorical lids – occasionally hurling themselves over the desk at reception in a fit of rage. These individuals would rather pull out a fingernail than have to wait one more second before someone comes to tend their swollen ankle.
As this is not something that the vast majority of us would want to deal with while in A&E, you'll be glad to know that there are people at work, right now, helping to tackle these serious issues. And all through the power of design.
The UK Design Council issued a 'Better A&E' design challenge in the hopes of improving patient experience and reducing some of the hostility and aggression displayed towards staff throughout our A&E departments.1 PearsonLoyd, the team charged with bringing about these changes, conducted extensive research that involved mapping out the patient journey through A&E. In addition to developing programmes to better prepare and support staff, the team also made specific design changes to the physical A&E space, by providing more comfortable seating and on‑site signage, digital platforms and leaflets with clear information about waiting times and treatment processes.1,2 At the two pilot sites where the scheme was initially conducted, 88% of patients said the new signage helped to clarify the A&E process, 75% of patients said it reduced their frustration at waiting times, and staff subsequently noticed a 50% reduction in threatening body language and aggressive behaviour towards them.1,3
So – clear signs and comfy chairs. Two simple design modifications, based on an understanding of the patient experience, that had a profound effect. 'Behavioural Design' or 'Design Thinking' are based around similar concepts of converting our knowledge of human behaviour and experiences into practical solutions or designs.2,4 For the healthcare industry, this means turning to patients and understanding their mindset to shape the spaces around them, so that the patients themselves are then positively influenced by their environment.4
Using design to add a splash of colour to patients' lives
What springs to mind when you think of the word "hospital"? "Grey" or "drab" are commonly used when describing what should be a place of healing.
Nemours, a not-for-profit paediatric health system in the US, set out to change this as they developed a brand-new children's hospital in Florida. Keen to provide a patient‑centric experience, they enlisted the help of IDEO, a company whose ethos is based around Design Thinking.5
IDEO drew inspiration from museums, toy shops, schools and zoos, and built full-scale prototypes of different rooms to gain feedback from their patients and to help refine their designs. In addition to some more techy innovations (such as personalised 'Smart Bracelets' to help patients keep track of their care team and 'Smart Rooms' that welcome patients when triggered by the Smart Bracelet), the photos below affirm that the design team achieved an aesthetic that's completely different (and awesome) to what we have perhaps come to expect from our hospitals (and certainly not grey!).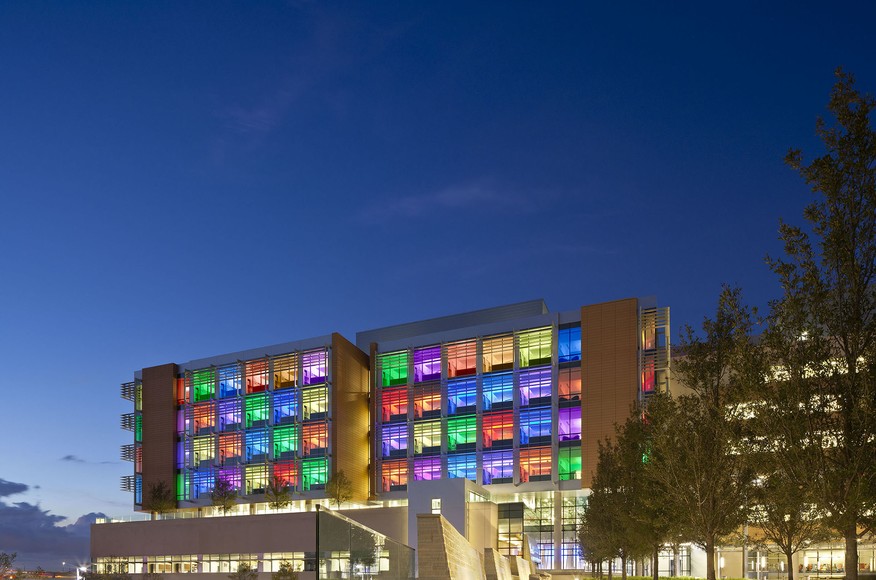 The healing power of architecture
We can all agree that in addition to being pleasing to the eye, architecture can help to create a pleasant and comfortable environment. But did you know that there's another hidden power that is said to lie within? That's right, some design and architecture is said to affect patients' recovery times and promote healing.
Dr Ellen Fisher, Vice President of Academic Affairs and Dean of the New York School of Interior Design, was quoted in an article on Cancer.Net as saying: "An environment designed using the principles of evidence-based design can improve the patient experience and enable patients to heal faster, and better."7
Another example that follows these principles is Maggie's Centres – a cancer-care organisation in the UK whose centres are built around this idea. Maggie believed that buildings have the ability to uplift patients.8 Maggie's husband (and Maggie's Centres co-founder), Charles Jencks, also placed an emphasis on the importance of architecture and credited it with being able to create an ambience that helps carers to establish the right frame of mind, which they will then transfer to their patients.
So how do they do it? Well, the centres are designed to be homely and familiar with a strong emphasis on nature, but also incorporate more practical elements, such as control over lighting, temperature, and air flow into each patient's room. As well as being visually soothing, the hope for these centres is that they provide joy to patients who are otherwise undergoing an enormous upheaval, and can help to promote wellbeing.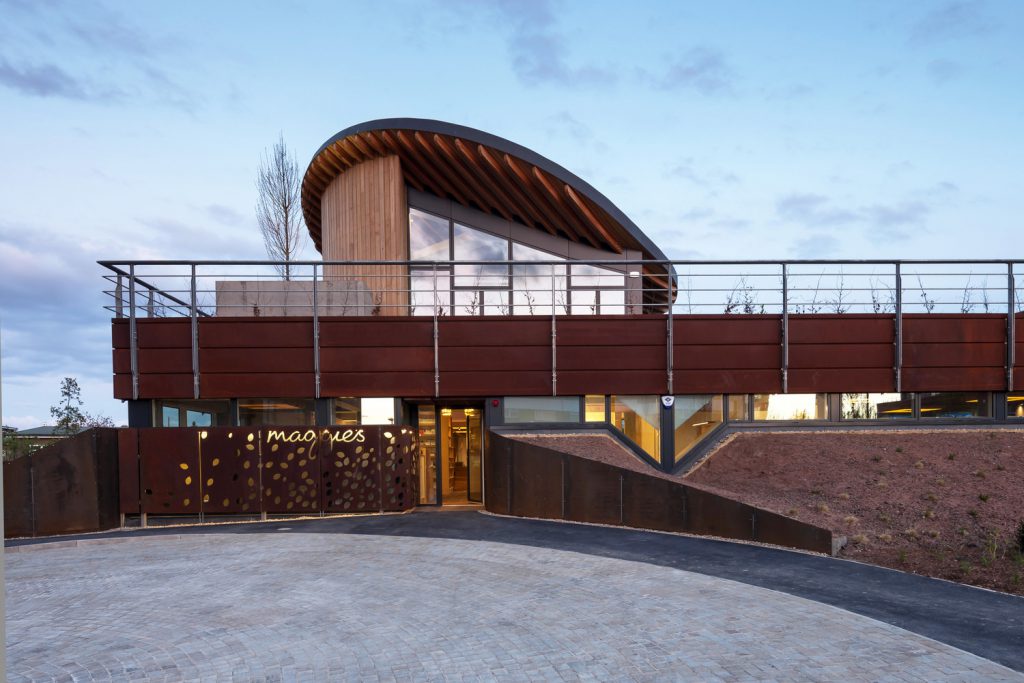 Our senses inevitably affect our mental health, and what we see and sense with our eyes plays a huge part in this.9 There can surely be no grander ambition for any design than helping patients to regain some form of control, comfort or general wellbeing.
References
https://www.designcouncil.org.uk/what-we-do/social-innovation/reducing-violence-and-aggression-ae. Accessed February 2021.
King D, et al. J R Soc Med 2014;107(9):336–7.
https://healthbusinessuk.net/features/how-rethinking-design-can-make-ae-wards-safer. Accessed February 2021.
https://hbr.org/2017/08/health-care-providers-can-use-design-thinking-to-improve-patient-experiences. Accessed February 2021.
https://www.ideo.com/case-study/a-hospital-centered-on-the-patient-experience. Accessed February 2021.
https://www.architectmagazine.com/project-gallery/nemours-childrens-hospital_1. Accessed February 2021.
https://www.cancer.net/blog/2014-04/architecture-recovery-can-design-affect-your-health. Accessed February 2021.
https://www.bbc.com/future/article/20171110-the-hidden-healing-power-of-design. Accessed February 2021.
https://www.archdaily.com/415127/maggie-s-newcastle-cullinan-studio. Accessed February 2021.
---